People's Conference and Rally
Mudgee, NSW - 20-21 March, 2012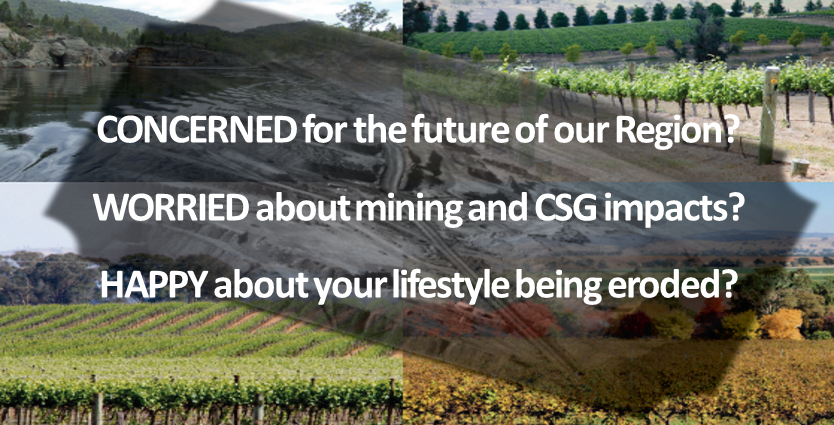 A big THANKYOU to everyone for making the two days of
'Mudgee Mining: the wHole Story' such a great success.

We're leaving the site in place for a few more weeks so you can read more about what happened, look through some great pics and download various materials, including the text of
Sharyn Munro's terrific talk: 'Clearing out the country'

Happy browsing!
---
Tuesday 20 March
11am Rally & March:
Five mines in the Mudgee region is enough!
Moonscape or Mudgee? We don't need, and cannot sustain, five more mines in this region. Rally opposite Parklands Resort 11am. Catch the bus from Lawson Park 10.30am.
2pm FREE Conference in Lawson Park
Program
| | |
| --- | --- |
| 2.00pm | Welcome |
| 2.10pm | Impacts and Issues from a Council Perspective (Cr Russell Holden) |
| 2.35pm | Health Impacts (Dr Richard Stiles, Drs for the Environment) |
| 3.00pm | Biodiversity Impacts (Pepe Clarke, CEO, Nature Conservation Council of NSW) |
| 3.25pm | Water Impacts: Maintaining Healthy and Resilient Water Systems (Julia Imrie) |
| 3.50pm | SHORT BREAK |
| 4.00pm | SPECIAL GUEST SPEAKER: Paul Cleary - Journalist and author of 'Too Much Luck: The mining boom and Australia's future' (To be chaired by retired NSW Supreme Court judge Morris ('Dusty') Ireland.) |
| 4.30pm | PANEL SESSION: 'Mudgee 2050', with local farming, viticulture, business, water user and social services representatives |
| 5.15pm | General session with meeting resolutions |
| 5.30pm | Thanks and close |
7pm Dinner with Sharyn Munro at Roth's
Dinner at Roth's Wine Bar with Sharyn Munro (author of soon-to-be-released Rich Land, Wasteland - why coal is killing Australia). Sharyn's talk is 'Clearing out the country - coal before communities, profits before people'.
Read more about Sharyn's forthcoming book here. Read the text of Sharyn's talk here. You can also read Sharyn's blog - which includes a post about the 'wHole Story' event and her talk - here.
Wednesday 21 March
Bus trip: The Magical Misery Tour
9.30 departing Lawson Park, visiting The Drip, viewing Moolarben & Wilpinjong mines, passing through Wollar, visiting Bylong for an outline of the coal mining proposals for Bylong Valley, visiting Lue for an outline of the silver & lead mine proposal for Lue. $10/person. BYO morning tea & lunch. Food on sale at Bylong General Store; free tea & coffee at Bylong Hall. Return to Mudgee 4pm.
Media Coverage
Have a look through some of the media coverage of our event (and the private industry conference):